PLYWOOD FSF FOR PAINTING
Birch plywood covered with a special protective paper that allows paint to be applied without additional surface preparation.

Advantages:
- EASY TO COLOR
- OPTIMAL LIGHT GRAY
- COVERING DOES NOT CRACK
- NO PRIMER REQUIRED
- REDUCING PAINT CONSUMPTION - 1 coat is enough!
Grades
SyPly PRIMER
Distinguish between the concepts of plywood grades and veneer grades. Plywood grades are formed from the grades of veneer used for cladding. For example, plywood faced on the front side with grade "B" veneer and on the back side "BB" will have grade B / BB - the highest grade is indicated first in the name.
Formation of SyPly PRIMER plywood grades
1 и 1/2 сорт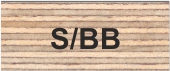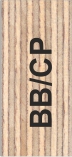 View pictures of plywood by grade
Scheme of forming plywood grades from veneer grades *NSH - unpolished plywood surface
Formats
SyPly PRIMER
220
Thickness, mm
SyPly PRIMER
6.0 , 9.0 , 12.0 , 12.5 , 15.0 , 18.0 , 19.0 , 20.0 , 21.0 , 24.0 , 27.0 , 30.0 , 32.0 , 35.0



Number of layers, pcs.
Colors
GRY с покрытием под покраску
Glue type / Water resistance
ФСФ
(шпон склеен смоляным фенолформальдегидным клеем)
повышенной водостойкости
Application
INTERIOR DECORATION

звукоизолирующие панели
лекционные аудитории
концертные залы
стеновые панели, перегородки
подоконники
двери

паркетная доска

EXTERIOR DESIGN

оформление фасада
балконные перекрытия
строительные леса
кровельные покрытия
ворота и изгородь

FURNITURE MANUFACTURE

фасад, боковые и задние стенки шкафов
корпус для мягкой мебели
мебель для сада и для дачи
мебель для ванных комнат
столы и столешницы
шкафчики и полки
кухонная мебель
стеллажи

CHILDREN'S PLAYGROUND

детская мебель (столы, стулья, скамейки, шкафы и др.)
оборудование детских и игровых площадок
спортивные и игровые площадки (хоккейные площадки, скаты для скейт-бордов, снежные горки, места для зрителей на спортивных площадках, скамейки, бортики, настилы под полы)
школьная мебель
детские горки
Basket
Selected properties
The section is in testing mode!
Glue type/water resistance