LAMINATED PLYWOOD WBP
Birch plywood laminated with a new generation film that provides increased resistance to UV rays (from burnout). SyPly SMART has a pleasant appearance, which makes it possible to use it not only in formwork systems, but also for the manufacture of structures in small engineering forms, for interior and exterior decoration.

Advantages:
- INCREASED RESISTANCE TO ULTRA-PURPLE RAYS
- DOES NOT HEAT BY SUN RAYS
- ABRASION RESISTANCE
- RESISTANT TO STEAM AND CONCRETE
- LOW RELEASE LEVEL OF FORMALDEHYDE
Grades
SyPly SMART
Distinguish between the concepts of plywood grades and veneer grades. Plywood grades are formed from the grades of veneer used for cladding. For example, plywood faced on the front side with grade "B" veneer and on the back side "BB" will have grade B / BB - the highest grade is indicated first in the name.
Formation of SyPly SMART plywood grades
1 и 1/2 сорт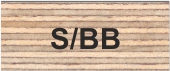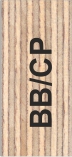 View pictures of plywood by grade
Scheme of forming plywood grades from veneer grades *NSH - unpolished plywood surface
Formats
SyPly SMART
120 , 220
Thickness, mm
SyPly SMART
6.0 , 9.0 , 12.0 , 12.5 , 15.0 , 18.0 , 19.0 , 20.0 , 21.0 , 24.0 , 27.0 , 30.0 , 32.0 , 35.0



Number of layers, pcs.
Colors
GRY с покрытием, устойчивым к УФ лучам
Surface
гладкая (F/F) , сетка (F/W)
Glue type / Water resistance
ФСФ
(шпон склеен смоляным фенолформальдегидным клеем)
повышенной водостойкости
Application
INTERIOR DECORATION

звукоизолирующие панели
лекционные аудитории
концертные залы
стеновые панели, перегородки
подоконники
двери

паркетная доска

EXTERIOR DESIGN

оформление фасада
балконные перекрытия
строительные леса
кровельные покрытия
ворота и изгородь

MONOLITHIC HOUSE BUILDING

опалубки под колонны
опалубки под фундамент
опалубки под перекрытия
опалубки под стены
опалубки под тоннели
Basket
Selected properties
The section is in testing mode!
Glue type/water resistance