LIGHTWEIGHT LAMINATED PLYWOOD WBP
A unique product developed and offered exclusively by the Syktyvkar Plywood Mill. High quality film faced plywood with alternating birch and aspen veneers in the inner layers
irreplaceable in the manufacture of forms of reusable concrete formwork.

Advantages:
- LESS WEIGHT OF PLYWOOD SHEET (1 sheet weighs 8% less compared to 100% birch plywood)
- EASY PROCESSING AND CUTTING
- STRONG ADHESIVE JOINT
- HIGH PERFORMANCE PROPERTIES
- MORE THAN 50 APPLICATION CYCLES IN A MONOLITHIC HOUSE BUILDING
Grades
SyPly ProFFit
Distinguish between the concepts of plywood grades and veneer grades. Plywood grades are formed from the grades of veneer used for cladding. For example, plywood faced on the front side with grade "B" veneer and on the back side "BB" will have grade B / BB - the highest grade is indicated first in the name.
Formation of SyPly ProFFit plywood grades
1 и 1/2 сорт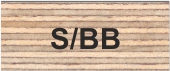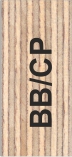 View pictures of plywood by grade
Scheme of forming plywood grades from veneer grades *NSH - unpolished plywood surface
Formats
SyPly ProFFit
120
Thickness, mm
SyPly ProFFit
12.0 , 15.0 , 18.0 , 21.0 , 24.0 , 27.0 , 30.0 , 35.0


Number of layers, pcs.
Surface
гладкая (F/F) , сетка (F/W)
Glue type / Water resistance
ФСФ
(шпон склеен смоляным фенолформальдегидным клеем)
повышенной водостойкости
Application
MONOLITHIC HOUSE BUILDING

опалубки под колонны
опалубки под фундамент
опалубки под перекрытия
опалубки под стены
опалубки под тоннели
Basket
Selected properties
The section is in testing mode!
Glue type/water resistance