LIGHTWEIGHT PLYWOOD WBP
A unique product developed and offered exclusively by the Syktyvkar Plywood Mill. High quality plywood with alternating birch and aspen veneers in the inner layers. It can be used in construction, in the production of furniture, where there is a need to facilitate structures.

Advantages:
- LESS WEIGHT OF PLYWOOD SHEET (1 sheet weighs 8% less compared to 100% birch plywood)
- EASY PROCESSING AND CUTTING
- STRONG ADHESIVE JOINT
- HIGH PERFORMANCE PROPERTIES
Grades
SyPly COMBI TWIN
Distinguish between the concepts of plywood grades and veneer grades. Plywood grades are formed from the grades of veneer used for cladding. For example, plywood faced on the front side with grade "B" veneer and on the back side "BB" will have grade B / BB - the highest grade is indicated first in the name.
Formation of SyPly COMBI TWIN plywood grades
C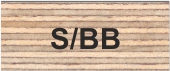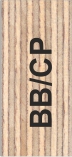 View pictures of plywood by grade
Scheme of forming plywood grades from veneer grades *NSH - unpolished plywood surface
Thickness, mm
SyPly COMBI TWIN
12.0 , 15.0 , 18.0 , 21.0 , 24.0 , 27.0 , 30.0 , 35.0


Number of layers, pcs.
Glue type / Water resistance
ФСФ
(шпон склеен смоляным фенолформальдегидным клеем)
повышенной водостойкости
Application
INTERIOR DECORATION

звукоизолирующие панели
лекционные аудитории
концертные залы
стеновые панели, перегородки
подоконники
двери

паркетная доска

FURNITURE MANUFACTURE

фасад, боковые и задние стенки шкафов
корпус для мягкой мебели
мебель для сада и для дачи
мебель для ванных комнат
столы и столешницы
шкафчики и полки
кухонная мебель
стеллажи

CONSTRUCTION

мостики обслуживания и погрузочные площадки
хозяйственные постройки и сооружения
оградительные сооружения и заборы
сельскохозяйственные постройки
кровельные материалы
складские помещения
перегородки, двери
строительные леса
настил под полы
опалубка

PACKAGE

тара и упаковка
декоративные ящики и коробки
Basket
Selected properties
The section is in testing mode!
Glue type/water resistance