LAMINATED PLYWOOD FSF DARK BROWN WITH LOGO SyPly
A distinctive feature of SyPly LOGO plywood is the application of a logo on the outer surface to visually inform the buyer about the belonging of this product to SyPly products. The laminated surface of the board is highly resistant to various natural and chemical influences. This property makes SyPly film faced plywood indispensable for the production of wear-resistant surfaces.

Advantages:
- MORE THAN 50 APPLICATION CYCLES IN MONOLITHIC HOUSE BUILDING
- EXCEPTIONAL STRENGTH AND WEAR RESISTANCE
- INCREASED WATER RESISTANCE
Grades
SyPly LOGO
Distinguish between the concepts of plywood grades and veneer grades. Plywood grades are formed from the grades of veneer used for cladding. For example, plywood faced on the front side with grade "B" veneer and on the back side "BB" will have grade B / BB - the highest grade is indicated first in the name.
Formation of SyPly LOGO plywood grades
1 и 1/2 сорт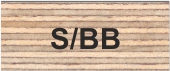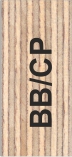 View pictures of plywood by grade
Scheme of forming plywood grades from veneer grades *NSH - unpolished plywood surface
Formats
SyPly LOGO
120 , 220
Thickness, mm
SyPly LOGO
6.0 , 9.0 , 12.0 , 12.5 , 15.0 , 18.0 , 19.0 , 20.0 , 21.0 , 24.0 , 27.0 , 30.0 , 32.0 , 35.0



Number of layers, pcs.
Colors
DBR с логотипом SyPly
Glue type / Water resistance
ФСФ
(шпон склеен смоляным фенолформальдегидным клеем)
повышенной водостойкости
Application
TRANSPORTATION ENGINEERING

прицепы
обшивка
дверцы
кузова
полы

в производстве:

грузовых автомобилей
торговых прицепов
автофургонов
троллейбусов
контейнеров
автобусов
трейлеров
кемпингов
пикапов
вагонов

MONOLITHIC HOUSE BUILDING

опалубки под колонны
опалубки под фундамент
опалубки под перекрытия
опалубки под стены
опалубки под тоннели
Basket
Selected properties
The section is in testing mode!
Glue type/water resistance